Discover the nonprofit organizations making an impact in Johnson County! Learn how you can support their work and give back to our community.
Arts & Community Development
Iowa City's nonprofit cinema challenges, inspires, educates, and entertains our diverse communities through the shared discovery of film.
REQUESTED DONATIONS
We connect the world and the heartland through collaboration with the U.S. Department of State's International Visitor Leadership Program (IVLP) to host current and emerging international leaders in eastern Iowa.
REQUESTED DONATIONS
Give online towards the David Tiffany Global Ties Endowment Fund, helping Global Ties Iowa be a force for positive global engagement for years to come.
Iowa City UNESCO City of Literature
The City of Literature promotes and encourages the love of literature by providing opportunities for the enjoyment of every genre to inspire and enrich the minds and souls of readers and writers of all ages and from all parts of our community.
REQUESTED DONATIONS
Mail donations to: City of Literature at 123 S. Linn St., Iowa City, IA 52240
A statewide media organization serving Iowans with fact-driven reporting, skilled analysis, thoughtful commentary, cultural programming, and remarkable storytelling. IPR is dedicated to uncovering important stories from every corner of Iowa and lifting up more — and more diverse — voices in our communities.
REQUESTED DONATIONS
Your monthly or one-time donation keeps our news free, accessible and centered on the interests of all Iowans.
Mail donations to: IPR at 2111 Grand Avenue, Des Moines, Iowa 50312
The Preucil School of Music seeks to provide excellence in music education based on the Suzuki philosophy of instruction. They offer music instruction for violin, viola, cello, bass, piano, flute and harp. Group classes, orchestras, chamber music, master classes and a wide range of related music activities are available to students from preschool age to happily retired!
REQUESTED DONATIONS
We are all things art. We make Iowa City a good home for artists, by providing platforms (venues, galleries), resources (workshops, tools), and opportunities (presentations, publics). We enrich the community by providing entry points to culture for artists and the art-curious.
REQUESTED DONATIONS
Summer of the Arts builds community by bringing people together in the Iowa City Area to experience, learn about, and enjoy free arts and culture activities. 
REQUESTED DONATIONS
With all events free to attend, they need the support of individuals in our community to continue producing over 175 hours of free programming each year.
Mail a check to 319 E 1st Street, Iowa City, IA 52240
Drop money in the bucket at their events
The mission of Ten Thousand Villages is to support artisans in developing countries with fair wages and safe working conditions by providing a marketplace for their hand crafted goods.
REQUESTED DONATIONS
We are accepting cash donations that help further our fair trade mission.
Give in our store at
105 S Dubuque St.
Iowa City, IA 52240
Driven with a mission to inspire and activate positive community growth through the arts, The Englert Theatre is Iowa City's last remaining historic theater and a vital community arts space. The Englert presents engaging year-round programming, fosters vibrant community partnerships, and hosts two annual festivals: Mission Creek Festival and Witching Hour.
REQUESTED DONATIONS
Our mission is to level the playing field so that all children, regardless of socio-economic status, receive a quality early educational experience that provides a pathway to kindergarten readiness.
REQUESTED DONATIONS
The following items can mailed to or dropped off at:
1500 Sycamore St
Iowa City, IA 52240
Gift cards to: Amazon, Aldi, Walmart, HyVee, or Prairie Lights
Baby wipes, boys clothing (infant to preschool), toys (infant-5)
Crayons, markers, construction paper, glue sticks and school glue, scotch tape, printer paper
Big Brothers Big Sisters Johnson County
We create and support 1-to-1 mentoring friendships that make a lasting and positive impact on young people, families, volunteers, schools, neighborhoods and our community.
REQUESTED DONATIONS
Boys & Girls Clubs of the Corridor
Boys & Girls Clubs of the Corridor expanded services to Iowa City in 2016 and now serves over 300 kids per day at six sites throughout the Corridor. Their youth development programming focuses on supporting Club members to graduate from high school with a plan for success in adulthood. Their mission is to inspire and enable all young people to reach their full potential as productive, caring, responsible citizens.
REQUESTED DONATIONS
A specialty pediatric healthcare provider for children and young adults with special healthcare needs. We partner with families to help children with special healthcare needs live a great life. We provide more than 30 services to over 5,600 children in Iowa each year. 
REQUESTED DONATIONS
The Iowa Children's Museum
The Iowa Children's Museum (The ICM) inspires every child to imagine, create, discover and explore through the Power of Play! The museum collaborates with community organizations to offer after-school programs, classroom enrichment activities, free events at local parks, and more!
REQUESTED DONATIONS
Offset the expense of creating free play experiences in communities throughout Eastern Iowa, renovating and repairing exhibits, and funding the ICM for Everyone program.
United Action for Youth (UAY) has been providing advocacy, emotional support, enrichment opportunities, and counseling services to youth in Johnson County since 1970. Today, UAY continues these services as well as programs supporting young people experiencing homelessness and pregnancy/parenting.
REQUESTED DONATIONS
Give the following items for UAY to distribute to young people and family members who need them.
Drop Off:
UAY's main office in the Iowa City Eastdale Plaza
1700 S. 1st Avenue, Suite #14
Hours: Monday-Friday, 9-5
Gently-used winter coats, fleece jackets, warm socks, gloves, mittens, and hats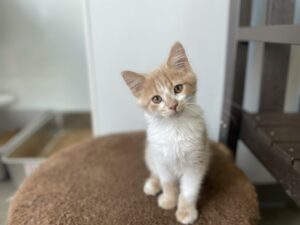 Friends of the Animal Center Foundation
Our foundation raises funds to support animal programs at the Iowa City Animal Care & Adoption Center and other animal welfare initiatives in our community.
REQUESTED DONATIONS
Venmo @facfic
Paypal info@facf.org
Mail checks to: FACF PO Box 1345 Iowa City, IA 52244
Drop off monetary donations in the donation box at the Iowa City Animal Care & Adoption Center