Shop the Block Coralville: June 16, 2022
Join us on June 16th for our first ever Shop the Block event in Coralville! Check-in is located in the West Music parking lot, on the corner of 5th Street and 12th Avenue. Grab a Passport and visit all 8 participating businesses to be eligible for door prizes at 6:30pm (must be present to win).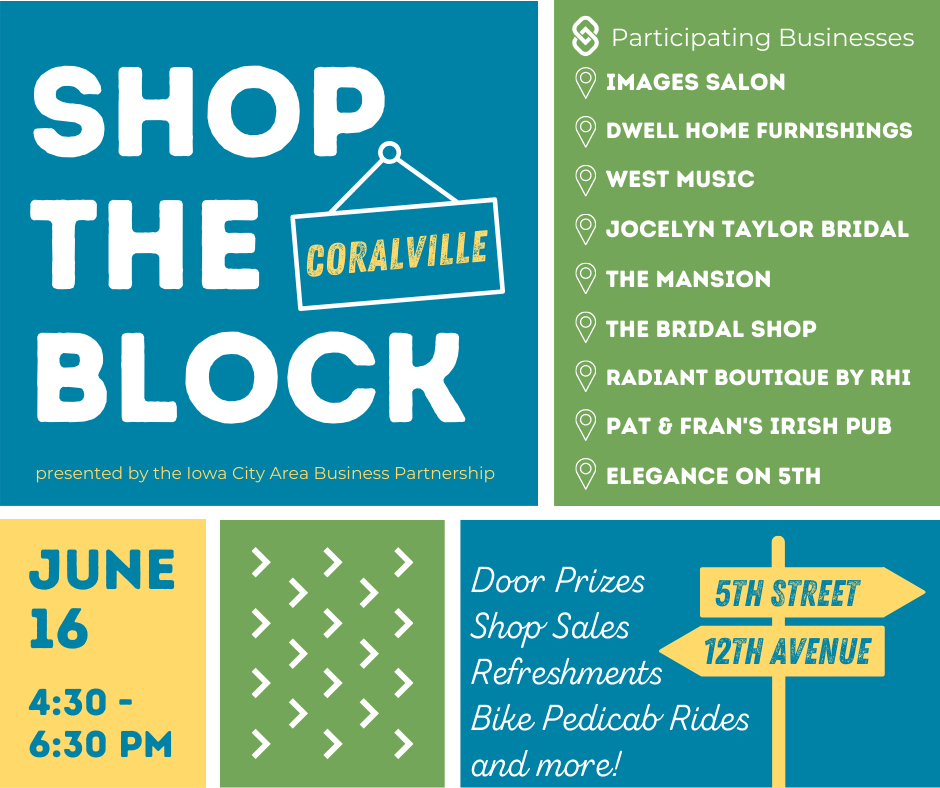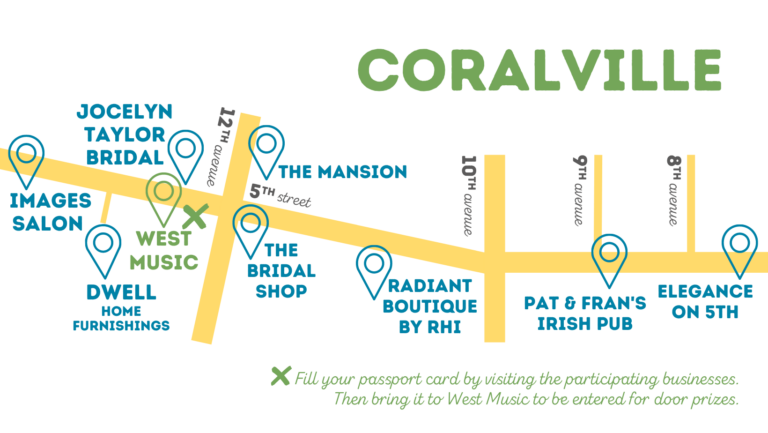 250 12th Avenue, Suite 100
A destination showroom and interior design studio, Dwell is known for an outstanding selection of unique interior furnishings and a creative and knowledgeable interior design team.
708 5th Street 
Elegance on 5th has unique gifts for everyone ranging from home decor, custom pieces and fine jewelry, as well as watch/jewelry repairs and appraisals.
Shop the Block Specials:
20% off
1324 5th Street 
Images Salon prides itself on developing strong relationships with its guests, as well as exceptional customer service. Services range from hair cuts to facial/ear/nose waxing.
Shop the Block Specials:
10% off locally made gift shop items; 20% off retail packages.
1303 5th Street #102 
Whether you're in search of the perfect bridal gown, mother of the bridge/groom dress, or a unique prom dress, we are here to help guide you in the selection process.
808 5th Street, Suite 8
Pat & Fran's is a full-service, casual Irish pub offering lunch, dinner and happy hour, and brunch on weekends. Located in the heart of Coralville, visit us when you need a place to relax or watch the games.
 Happy Hour Specials!
1100 5th Street, Suite 100
Book your shopping appointment with Rhi to shop her latest clothing and gift collections! Shopping by appointment guarantees one-of-a-kind customer service in a specialty retail setting.
1150 5th Street, Suite 150
Our bridal boutique specializes in the latest trends in styles, fabrics and colors. We are your one-stop shop for all things bridal. Visit us today!
Shop the Block Specials:
One Raffle entry per customer. Grand Prize valued at $200.
501 12th Avenue, Suite 102
The Mansion is a full-service interior design studio and furniture showroom. Browse a wide variety of furniture and accessories, and find unparalleled attention to detail. 
Shop the Block Specials:
Refreshments and giveaways!
1212 5th Street
West Music is your one-stop shop for musical instruments! Our full array of services includes repair technicians, music therapists, lesson teachers, classroom consultants and more.
Grab a ride on Pedal Power's pedicabs during the event. Pedal Power will be available to assist with FREE rides along 5th street to make sure attendees visit all shops!
Parking is available throughout the 5 block area that makes up our Shop the Block event. Lots are available behind West Music and in front of Dwell Home Furnishings, in the shopping center by Radiant Boutique by Rhi, and in the lot off 12th Avenue near the Coralville Public Library.